Florida Chapter Club Managers Association of America
Lakeland, FL

Big Cypress Golf & Country Club
Vero Beach, FL

John's Island Club
Orlando, FL

Lake Nona Golf & Country Club
Fort Lauderdale, FL

Lauderdale Yacht Club
North Palm Beach, FL

Lost Tree Club
Ponte Vedra Beach, FL

Marsh Landing Country Club
Palm Beach Gardens, FL

Mirasol Country Club
Delray Beach, FL

Mizner Country Club
Bonita Springs, FL

Palmira Country Club
Naples, FL

Stonebridge Country Club
Tampa, FL

Tampa Yacht & Country Club
Ponte Vedra Beach, FL

The Plantation at Ponte Vedra Beach
Welcome to Florida CMAA
The Florida Chapter is the largest of CMAA's Chapters. Our membership is made up of 700 members at 350 clubs throughout the state. While we recognize Florida as one large chapter, our members meet on a monthly basis for education and networking events in five geographic regions around the state: Everglades, Gator, North/Sunshine and Seminole.
Scroll For More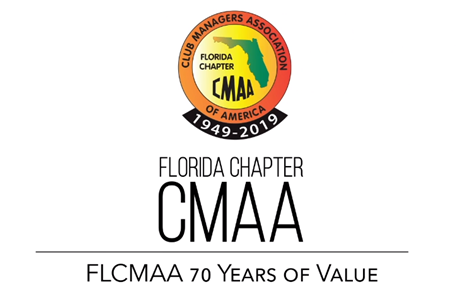 Learn about our 70 year history and what the Florida CMAA represents as the largest CMAA Chapters in the US
Mission Statement
To promote and advance friendly relations between and among persons connected with the management of the clubs and other associations of similar character, encourage education and advancement, and assist members to secure the utmost in an efficient and successful operation.

Copyright © 2019 by Florida Chapter CMAA. All Rights Reserved.
Club Websites by MembersFirst | Terms of Use | Privacy