Achievements
Since our inception, the Florida Chapter has been recognized by various associations and charities for our leadership, commitment to excellence and philanthropy efforts. Our members are leaders in their communities and clubs.
Jay DiPietro, CCM Most Valuable Member Award
The Jay DiPietro Award, previously known as the Most Valuable Member Award is awarded annually to Chapter members who through their service or by their actions are most deserving of the recognition of their peers. Such services or actions may have come at the Chapter or Regional level, be directly related to FLCMAA programs or activities or to those who provided outstanding service in their club community.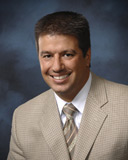 Previous Honorees Include:
Brett Morris - 2019
Al Kinkel, CCM, CCE, CAM, FMP and Jack R. Sullivan, CCM—2018
Michael Bradfield, CCM, CCE, CAM—2017
David Colclough, CCM—2015
Chris Everhart, CCM, PCAM, CHAE—2013
Gary Collins, CCM, CCE—2012
David Kemp—2011
Timothy Richards, CCM - 2010
Craig Martin, CCM—2009
John P. McCranie, CCM—2008
Tish Sargent—2008
Dennis Ahearn, CCM—2007
Dennis Ahearn, CCM—2006
John R. "Jack" Sullivan, CCM—2005
Hugh J. Van Veen, CCM—2004
Stuart C. Tyrrell, CCM—2003
LuAnn G. Giovannelli, CCM—2002
Excellence in Education Award
The Florida Chapter has been awarded the Excellence in Education Award by the Club Management Association of America from 2006–2018. This annual competition showcases CMAA Chaptersthat are contributing to the club management profession through creative, informative, relevant and innovative annual programming. The Florida Chapter's commitment to professional development and interactive learning and networking is our foundation and strength.
Chapter of the Year
The Chapter of the Year Award competition recognizes outstanding work, participation and successful accomplishments by Chapters within the Club Management Association of America. The Florida Chapter is a proud recipient of the 2000, 2002, 2004 and 2015 Chapter of the Year Award.